Discover more from Rediscovered Realms
Rediscovered Realms newsletter reconnects you with old-school heroic fantasy worlds of epic role-playing games, unearthed magazines, forgotten gamebooks and enchanting art.
Fabled Finds: Unboxing D&D Monster Minis #1
This week I figured we'd have some fun and unbox a D&D Monster mini that's been sitting on my desk for a while, then talk a bit about the little beastie that emerges.
Ooh, I wonder what it will be?
These toys put out by Kidrobot, came out August of last year (2022) and feature the most famous-est of monsters from early Dungeons & Dragons.
They are blind-boxed, so you don't know which random 3" vinyl figure is abyssed within.
There are 13 in all for this first series, so I can assume there will be other classic series to come, and I've seen them cost anywhere from $15-$25.
What's in the box? It could be any of the following:
Beholder

Displacer Beast

Fire Elemental

Ghoul

Mimic

Mind Flayer

Red Dragon

Remorhaz

Roper

Rust Monster

Sahuagin

Salamander

Xorn
Over the decades of Dungeons & Dragons™, there have been multiple reference works that describe amazing monsters and their stats, but I was pretty sure every one of these particular creatures was from TSR's original Advanced D&D™ Monster Manual, first published in 1977.
Interesting fact: The Monster Manual was the first hardcover D&D book! It included monsters created specifically for D&D™, but also others gleaned from folklore and mythology.
Pulling out my 1979 edition confirmed that all these creatures were in that volume, BUT . . .
. . . like most ideas & inventions, Advanced D&D™ had predecessors too - in this case in the form of a "White Box" set, now called OD&D (Original D&D) as well as other supplements, magazines & modules.
---
---
(Featuring artwork from Clyde Caldwell & Luke Eidenschink!)
---
---
So, it's pretty likely that most of these 13 boxed monsters have even deeper provenance.
I dug a little, and sure enough, even though some of them in the Monster Manual were new, others were pulled from older sources such as Monsters and Treasure (OD&D), Greyhawk, Blackmoor, Eldritch Wizardry, The Strategic Review and even Dragon Magazine.
The Beholder and Displacer Beast for instance, were first published in 1975 from the first Greyhawk supplement, whereas the Ghoul was first defined for gameplay in 1974 from the Monsters & Treasure book in the original D&D set.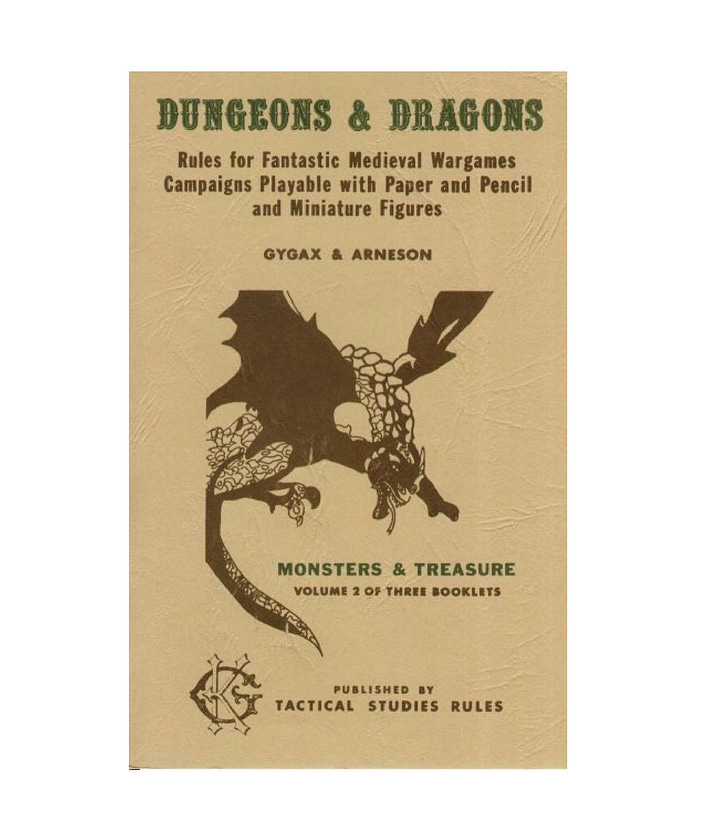 Enough Monster Manual lore for now - what's in my box?!
Oh, no, WATCH OUT! It's . . .
. . .
It's . . .
. . .
. . . A ROPER! And boy, does he look angry.
The Roper, not to be confused with this guy from Three's Company,
mimics a stalagmite, pillar or just a hump, and would wait to ambush/eat/dissolve-in-stomach any approaching adventurers. It is described in the Monster Manual thusly:
"This yellowish gray monster appears to be a mass of foul, festering corruption. The roper is cigar-shaped, about 9' long, with a diameter of some 3'."
Ropers' ecology was further developed in Dragon Magazine #232 in 1996. Here we learn about their larval forms, digestive processes and, of course, how much you can sell their harvested parts for.

Naturally, because of their historical role in D&D lore, Ropers hold a nostalgic place and are regularly resurrected in different merchandise forms.
Magic the Gathering (WotC) even has a couple cards in the 2021 release, Adventures in the Forgotten Realms.
"You see, stalac-tites grow down from the ceiling, while stalag-mites reach — AAHHHHHHHHH —"
— An explanation is cut short by a roper attack
So concludes our little Monster Mini unboxing party. I hope you enjoyed it. Now if you'll excuse me, I think I'll break apart my new Roper. I'm hoping to find a full complement of 18 platinum pieces and 20 gems, or at the very least, some saleable organs!
Thanks for reading Rediscovered Realms! Subscribe for free to receive new posts and support my work.
Did you miss any of our other Fabled Finds articles, where we quest for new fantasy treasure with that old school fantasy feel?