Discover more from Rediscovered Realms
Rediscovered Realms newsletter reconnects you with old-school heroic fantasy worlds of epic role-playing games, unearthed magazines, forgotten gamebooks and enchanting art.
Indiana Jones: Raiders Of The Eye Of Sheba
Being a child of the '80s, I recall many great action movies, but few have captured my heart and imagination like the adventures of Indiana Jones.
He was everything that I, my brother, and tens-of-millions of others wanted to be. Adventurous, smart, confident, lucky, tough, educated, a magnet to the ladies, and infused with a healthy dose of roguish humor. His adventures took him to exotic locales where he negotiated/cajoled/fought with some of the most colorful inhabitants and villains to have ever graced the big screen - all while rediscovering lost artifacts "that belong in a museum" rather than in the hands of the enemy.
When Indiana Jones and the Temple of Doom came out on May 23, 1984, it was an instant success. This was the first one in the series my family and I attended in the movie theater (Raiders being watched in re-runs on the TV for years prior).
Though some parts of this movie may not have stood the test of time, when looked through the lens of a young boy, experiencing Shanghai mafia, beautiful and high-maintenance Willie Scott, an airplane inflatable raft escape, missing village children & Sankara stones, possessed Pankot Palace peoples, chilled monkey brains banqueting (yuck!), insect-infested secret passages (ick!), Thuggee cultists, Mola Ram's heart sacrifice (ouch!), mine cart race escapes, the bridge over troubled (crocodile-snapping) waters, ... and yes, even Short Round . . . was epic.
"In response to some of the more violent sequences in the film, and with similar complaints about Gremlins, Spielberg suggested that the Motion Picture Association of America (MPAA) alter its rating system by introducing an intermediary between the PG and R ratings. The MPAA concurred, and a new PG-13 rating was introduced two months after the film's release." - Wikipedia
It's one of my favorite shared family memories when we all thrilled to the spectacle that George Lucas and Steven Spielberg prepared for us with their movie magic. We oohed and aahed, feared and cheered, and wound up leaving the theater with fun memories that have lasted a lifetime. The world just seemed like a better place with Indiana Jones in it.
"Both men [Lucas & Spielberg] later attributed the film's tone, which was darker than Raiders of the Lost Ark, to their personal moods following the breakups of their relationships.

In addition, Lucas felt "it had to have been a dark film. The way Empire Strikes Back was the dark second act of the Star Wars trilogy."

Spielberg had said "The danger in making a sequel is that you can never satisfy everyone. If you give people the same movie with different scenes, they say why weren't you more original?"

"But if you give them the same character in another fantastic adventure, but with a different tone, you risk disappointing the other half of the audience who just wanted a carbon copy of the first film with a different girl and a different bad guy. So you win and you lose both ways."" - Wikipedia
So, during that same year, on one of my school's Scholastic Bookmobile visits I was THRILLED to have found 2 Indiana Jones Find Your Fate Adventure books on its wayfaring shelves: The Lost Treasure of Sheba and The Eye of the Fates.
Not only were they Indiana Jones books, they were in a gamebook Choose-Your-Own-Adventure format where I could be part of the story!
I don't recall why I only got #2 and #4 (and skipped #1 and #3) - it's possible these were the only ones available, or that I liked these 2 covers the best (which I still do!) Either way, I still have both of them after all these years and thought it would be fun to give them another read.
The Find Your Fate Adventure gamebook series, by Ballantine Books originally contained 17 books, mostly featuring Indiana Jones, but with some James Bond and Morgan Swift entries as well.

There were other later spin-offs in the Find Your Fate series for G.I. Joe, Thundercats, Doctor Who, Jem, The Transformers, and The Three Investigators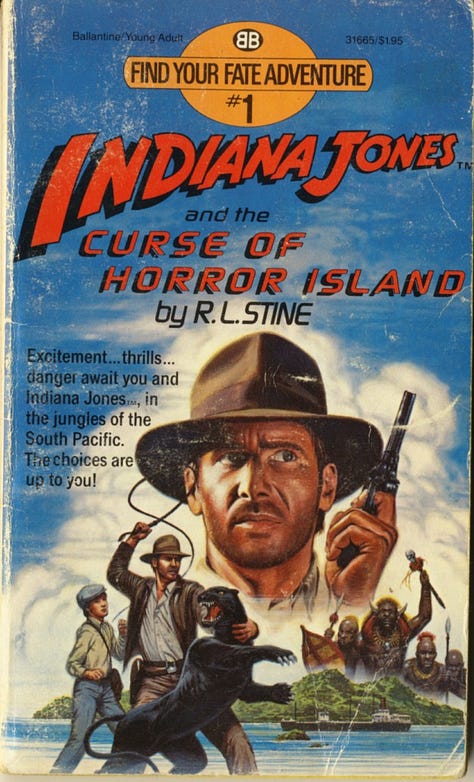 I had a blast re-experiencing these adventures after so long - in fact, they may as well have been brand new - I didn't remember a thing other than their covers!
The premise is you are a kid - sometimes Indy's cousin, sometimes a kid of some other scientist, museum curator, etc. - that accompanies Jones on a race to recover some powerful lost artifact before the bad guys do.
I found it interesting that there's little to no internal consistency throughout individual books. In other words, the things you learn/experience through certain choices don't apply at all if you were to make different choices. So, it's basically a randomized plot with randomized character reactions every time you re-read (replay) them - a Schrödinger's Cat quantum gamebook, if you will (I should trademark that).
For example, the artifact may turn out to be a physical item in one branch of choices, or the sun in the sky down another branch. A person you encounter may be trying to help you with one choice or trying all along to stomp you if you make the other. Choosing one direction takes you to Greece where you eventually find the artifact . . . but if you go to Japan, it somehow now always has been there.
At first this felt weird, but in a way it increases the re-playability, as you can't really reason your way through on subsequent reads.
I guess we could also label this style of "gamebooks" as "Gump-books" instead.

"Life is like a box of chocolates. You never know what you're gonna get."
As I was reading, it was fun to try and hear in my mind the dialogue as if it was Harrison Ford's rakish character talking - sometimes the writing and characterization was spot-on (I think Rose Estes did the best), other times it was sooooo out of character to be just plain wrong.
[fighting giant crabs]: "Indy yells, 'but I think they're getting the upper claw!'"
[riding said crabs]: "With a laugh, Indy hops aboard another crab and comes riding after you. 'I guess this is a new species,' he calls as you both reach the wall. 'The taxicrab!'"
I prefer the "real" Indiana Jones to "Pun-diana" Jones, so I just relegated those silly sections to the 9th circle of hell in my mind palace (where my memories of betrayal by Indiana Jones and the Crystal Skull also reside if you're interested).
A few months back I purchased a roughly used Indiana Jones gamebook that I thought was from a different series but came to find out it was actually a reprint of Book 1 of the Find Your Fate series - "Indiana Jones and The Curse of Horror Island".
It seems that in the 1990s Ballantine reprinted the books in the series that were written by R.L. Stine, after his Goosebumps series skyrocketed to stardom. The reprints included new covers that emphasized his name and de-emphasized Indy's.
Nevertheless, I was delighted to find that I now had the 1st book in this series! After gently scrubbing the grime (and unidentified spilled crusty substance) off the cover and doing some fancy colored marker work, I gave this a read with my other two.
It was neat to see how each different author in the series approached this intellectual property. Some referenced old familiar pals (Marcus Brody) and old familiar villains (Belloq), but for the most part it was all new material and villains. Some reference Indiana as "Jones", while others use "Indy".
I particularly found it interesting how Rose Estes (of Endless Quest fame!) wrote Book #2 "Indiana Jones and the Lost Treasure of Sheba" in the 1st-person past tense. Most CYOA-style books use 2nd person present. I actually think it's pretty cool!
"My head was spinning and the truck was spluttering when Jones wrenched the door open and flung himself in beside me.
'You learn this in the Boy Scouts?' he asked, backing the truck free of the building and gunning it down the street.
'It just seemed like the right thing to do. Are we going to make it, Jones?' I asked as a flood of army vehicles took up the chase.
'I don't know, kid. Just hang on to your seat and pray!'"
Read more about the phenomenal Rose Estes here:
The covers (for the original series) and interior artwork were all done by David B. Mattingly. I always thought his style accurately captured the essence of the movies and depicted Indiana in a realistic way (crab-riding aside).
In researching him, it looks like he has done work for Disney Studios as a matte artist for: The Black Hole, Tron, Dick Tracy, The Watcher in the Woods and Stephen King's The Stand, as well as on I, Robot and Hail, Caesar!
He has also illustrated more than 2,000 book covers (including 50 of the Animorphs series) for Ballantine, Baen, Bantam, Berkley, Dell, Alfred A. Knopf, Marvel Comics, Omni, Playboy, Ace, Penguin, Scholastic, Signet and Tor.
David currently teaches and does independent matte artwork and illustration.
According to his website, "I also do web based training for matte painting on Lynda.com for those of you not lucky enough to live in the New York area." www.lynda.com/David-Mattingly

You can see some of David's amazing portfolio here: https://davidmattingly.com/

Fun Fact from his bio: His dad was the inventor of the Waterpik oral hygiene device!

Another Fun Fact: His middle initial, "B." stands for "Burroughs", as in Edgar Rice Burroughs - which is who his parents named him after!
Without a doubt, I really enjoyed reading through these 3 books - then going back through them to try all the choices possible. I caught myself giggling out loud several times from some unexpected turn of events and unforeseen demise(s).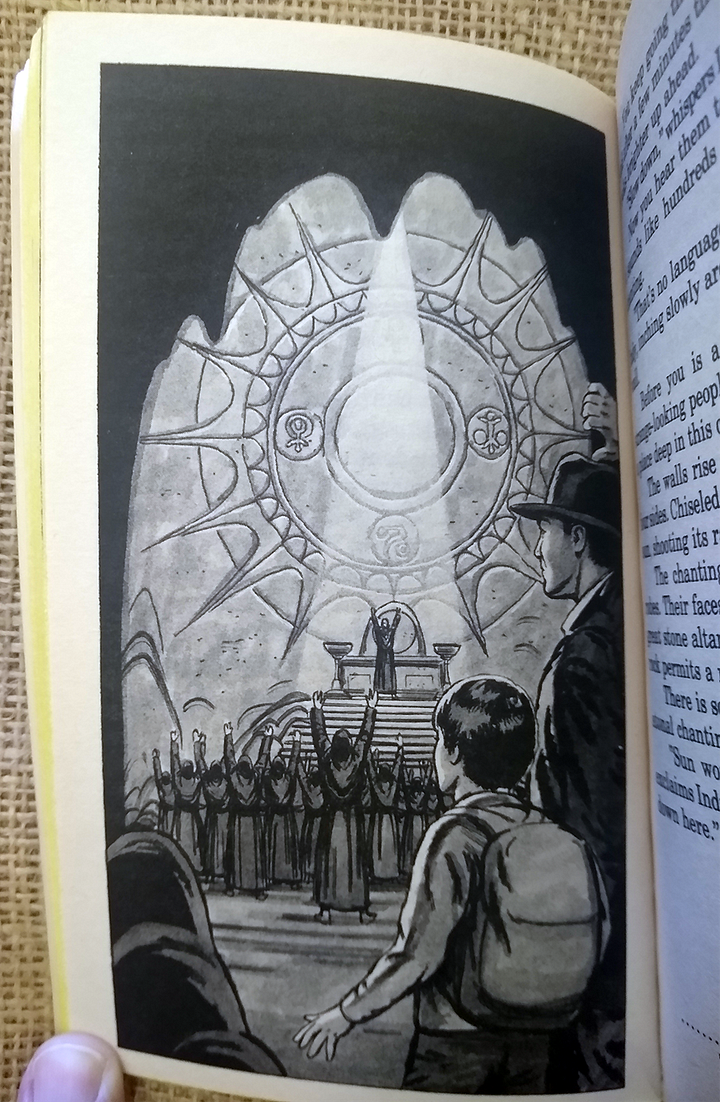 ---
On May 24, 1989, Indiana Jones and the Last Crusade was released in theaters, breaking records and becoming the highest grossing film IN THE WORLD that year.
The joy it brought to me and my family seeing it, no, experiencing it, in the movie theater cannot be put into words. The ever-present luck-infused skin-of-your-teeth action sequences, the incredible musical score by John Williams, the humorous/realistic/approval-seeking-come-tender father-son dynamics between Sean Connery and Harrison Ford, getting a glimpse into young Indy's (River Phoenix) past, breathtaking Venice, Knights Templar guardians, femme fatale Elsa, jaw-droppingly impressive Petra, ancient puzzles & booby traps, and not to be forgotten - an Austrian castle (with tapestries!)
This was as close to movie perfection as was possible. Maybe I'm biased, but when everyone in your family can laugh and cheer and enjoy a movie together, it's got to be good.
Next week, June 30, 2023, will bring us the latest adventure of Indiana Jones and the Dial of Destiny, and the last adventure for Harrison Ford as the titular character.
42 years after Raiders of the Lost Ark started it all (June 12, 1981), we get to see our beloved hero don his weathered fedora, brown leather jacket, and bull whip for one last quest.
The end of an era. The end of a legend. The conclusion to the cultural phenomenon that influenced millions of people's lives . . . for the better.
I can't help but feel all-of-a-sudden-sad over this (I'm glad no one can see my leaky sentimental eyes as I type), knowing that future generations will never get to experience the thrill and joy of seeing these movies in the theaters, suspending disbelief and feeling the connected energy & excitement of the other moviegoers around them. I'm sad that heroes seem so hard to come by these days - real or fictitious. I'm sad that times definitely felt simpler, as time is wont to make us feel.
I'm sure these movies and their characters will be "rebooted" someday in my lifetime with different twists and angles and novelties, like all successful franchises are. As for me, the magic and my loyalty will remain forever with the originals.
But before all my sentimental doomsdaying comes to be, I get to thrill one last time to the epic music, incredible action scenes and ridiculously accentuated punching sound effects that I've come to know and love. I get to feel adventure & discovery stir my soul while we see Good stand up, not for what is perfect, but for what is right.
My mom has already bought the movie tickets for our entire family, including my dad and brother, wives and nephews. In this time when real heroes seem scarce and anti-heroes and staying silent are the norm, I look forward to channeling my inner boy again, sitting next to my family at the movies, eating popcorn, and rooting for Indiana Jones - my hero. I can't wait.
Thanks for reading Rediscovered Realms! Subscribe for FREE to receive amazing weekly posts and keep the adventure going strong!
---

---

(Featuring artwork from Clyde Caldwell & Luke Eidenschink!)

---

---