Discover more from Rediscovered Realms
Rediscovered Realms newsletter reconnects you with old-school heroic fantasy worlds of epic role-playing games, unearthed magazines, forgotten gamebooks and enchanting art.
DragonLance Calendars: What's Old is New Again
(And if you live long enough ... again)
On a recent online foray seeking out the old-school fantasy artist master Clyde Caldwell, I came across an interesting item in his "Hidden Treasures" shop (https://clydecaldwell.com) – He had acquired some batches of the classic Dragonlance calendars from 1985 and 1988.
BTW: For fans of Clyde Caldwell, be sure to tune-in and subscribe to this newsletter, as he has agreed to do an upcoming interview with me for Rediscovered Realms!

UPDATE: Here it is!
Intrigued, I had to click to find out more.
The 1985 calendar was the 1st Dragonlance calendar ever produced about the amazing book series and at an original price of only $6.95. It included 3 pieces of Clyde's and other stunning artwork from Larry Elmore, Jeff Easley, and Keith Parkinson.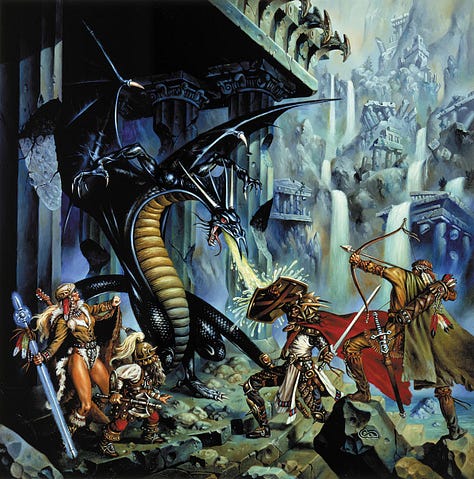 The 1988 calendar was also originally $6.95 (so much for customers being forced to absorb the inflation back then!) and featured the same amazing roster of fantasy artists. Clyde had another sublime three.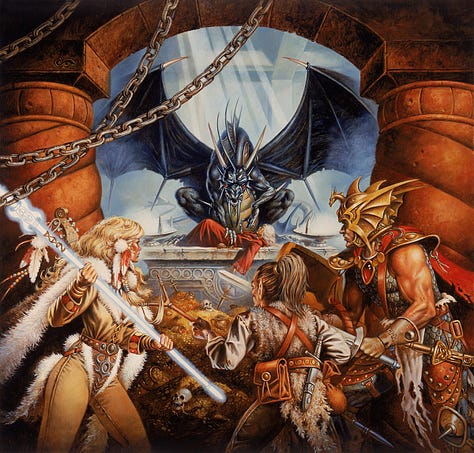 Somehow, Clyde had found shrink-wrapped quantities of these amazing calendars. What's cooler is that (with permission) he will break the holy armour spell sealing these time capsules and sign them with his artist's quill.
I thought this was pretty badass, but what would I do with 30+ year-old calendars? As amazing as the artwork is, not very practical, right?
That's when Sexy Serendipity struck (Oh, she's a salty wench, that one!)
Somewhere on his old Facebook feed, I saw a reference to these calendars and how they can become viable again in certain years.
Rusty cogs creaked into motion in the recesses of my mind – "Wait a minute. Don't I have an old Dragonlance calendar stored away somewhere?"
Digging through the dirt (listening to Peter Gabriel, of course) I unearthed my TSR 1995 Dragonlance & Other Worlds Calendar!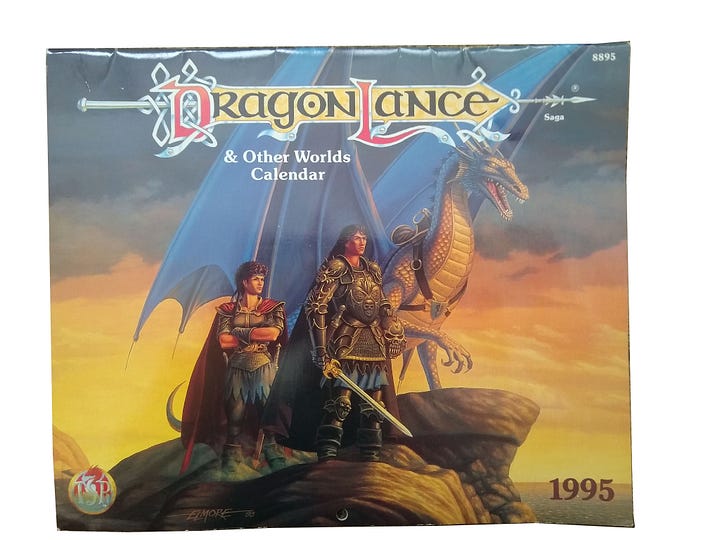 And guess what?
1995 calendars are valid again in . . . you guessed it . . . 2023!
Although bummed I hadn't been using it for the past 2 months, I have 9 more glorious lunar cycles to enjoy this fantastic artwork. I'm also unsure as to why Clyde's work isn't in this particular year's calendar. Perhaps that's an answer I can find out from him soon.
BTW: You can find out when you can reuse YOUR old calendars at the site aptly named: https://whencanireusethiscalendar.com
The 1985 Dragonlance calendar will be in vogue again in 2030 – I missed the 2019 resurrection tour.
---
---
(Featuring illustrations by Clyde Caldwell & Luke Eidenschink!)
---
---
The 1988 calendar was last fashionable in 2016, and the next round won't be until 2044 (Damn you, Leap Years!) – Whew, that's a while, but it gives you plenty of time to buy that perfect gift for your future self or your by-that-time decrepit friend!
BTW: Clyde's signed 1985 calendar is currently sold out, but there are a few 1988s left!
Dragonlance was one of THE most important things in my life as a kid. It shaped my worldview about companionship and camaraderie, love and loss, fall & redemption. I started with the Dragonlance Chronicles series, followed as quickly as possible by Legends, Tales, and Heroes. Those series remain my Dragonlance canon today.
I still remember reading Dragons of Winter Night on our family's several-day drive moving to Florida when my eyes started tearing up and my heart feeling like it was being squeezed in a vice. I had gotten to the end of the book and just read in shock what had happened to Sturm Brightblade.
I had no one to share my sorrow and misery with from that backseat of isolation, as my younger brother was not interested in reading at that time, and no one in my life would or could appreciate the depth of connection I had built with these characters over the span of the first 2 books (and multiple library & bookstore visits in order to find them). I mourned in solitude, finding solace only in knowing this wasn't the end of the series, though I didn't own the next book yet, and was left sufferingly sequel-less for the rest of that trip.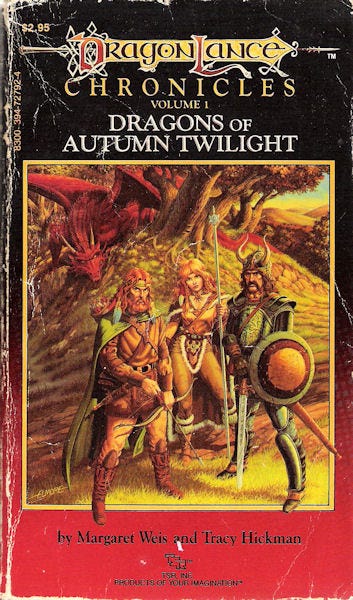 Fast-forward to 2020, when the pandemic first struck, and we were all looking for ways to stay occupied (and sane). My brother decided to break out the ol' Chronicles and read them to his boys while I tuned-in and listened weekly from across the country.
You see, those books had become the magic that clicked in youth for him too - that inspired him to read. They were the first books he chose to read on his own. The first stories and characters he connected with. And once he started, he couldn't stop.
So, I find it pretty amazing and special the power that fantasy can have on a life, and how now, this power and love has been passed down to another generation, to my nephews.
---
The other day, 38 years after Dragons of Autumn Twilight was released and my life changed forever, I received a package on the doorstep.
Imagine my surprise when I opened it to see Tasslehoff Burrfoot looking at me from the cover of a book I did not recognize. The new Dragonlance book, Dragons of Deceit, had arrived from my brother and family as a present.
I return Tas's gaze and give him a smile.
Hello old friend. It's so good to see you once again. I look forward to reading about your new adventures - and can only hope you and I are still around in 2045, when we can exhume my 1995 Dragonlance calendar once more and have it grace the walls of wherever we may be.
---
Some other interesting Dragonlance threads:
I love that these guys (below) did a Dragonlance re-reading with commentary back in 2015-2016. Super-cool to reminisce:
https://www.tor.com/series/dragonlance-reread/
---
Miss any of these recent Rediscovered Realms articles? Make sure to subscribe so your questing party doesn't leave you behind!

Thanks for reading Rediscovered Realms! Subscribe for free to receive new posts and support my work.