Discover more from Rediscovered Realms
Rediscovered Realms newsletter reconnects you with old-school heroic fantasy worlds of epic role-playing games, unearthed magazines, forgotten gamebooks and enchanting art.
Have you ever quested in Weirdworld? I hadn't until now. Join Rediscovered Realms as we explore Marvel's amazing Tolkien-channeling 3-issue fantasy saga from 1979 in all its artistic glory.
Marvel Super Specials 11, 12 & 13 featured the 2nd Weirdworld storyline, "Warriors of the Shadow Realm" - a long hoped for realization of creator Doug Moench, and a dazzling masterpiece of composition, penciling, inking, and airbrushing by John Buscema, Rudy Nebres, and Peter Ledger.
Mike Ploog illustrated the original storyline back in "Marvel Super Action" (1976) and also in "Marvel Premiere" #38 (1977)
Thanks for reading Rediscovered Realms! Subscribe & Consider Pledging to receive amazing weekly posts and Keep the Adventure Going Strong!
A fortuitous Ebay browsing session brought these exciting covers into my view. I wasn't sure if they were my taste, but the cover illustrations and typeface evoked fun fantasy and looked so different from other Marvel comics that I decided to give them a try.
Boy, am I glad I did.
You can tell that every page of each issue was lovingly designed and held to an extremely high quality.
Many of the panels would make amazing posters and prints with multiple breathtaking double and even triple-page spreads.
In fact, Marvel (thru Pacific Comics) released a 6-plate portfolio of many of the double-panel illustrations on 16"x11" vellum.
---
Did you know that Marvel also produced Advanced Dungeons & Dragons Storybooks? Check out this Rediscovered Realms post:

---
It was curious to me how the editorials kept mentioning the "colors" as if they were somehow different in these issues. Even the cover of Part II touts, "In Super MARVELCOLOR!"
---
---
Do you love heroic fantasy gamebooks like me? Consider signing up to be informed when I launch my very 1st one!

(Featuring artwork from Clyde Caldwell & Luke Eidenschink!)
---
---
Reading further, it sounds like they had worked hard on new creation & reproduction processes to bring vibrant colors to the page that hadn't been achieved before.
Holding in my hands the evidence of those enhanced processes, I can't help but be captivated with how impressive the colors & clarity are (and have remained after 44 years!)
Beyond the storyline and amazing artistry, I love that each issue had a bunch of extras - articles about the making of this story (including the particulars of the process), map glossaries, recaps & previews, John Buscema scrapbook entries, and even a couple articles about the history of American fantasy illustration and comic strips.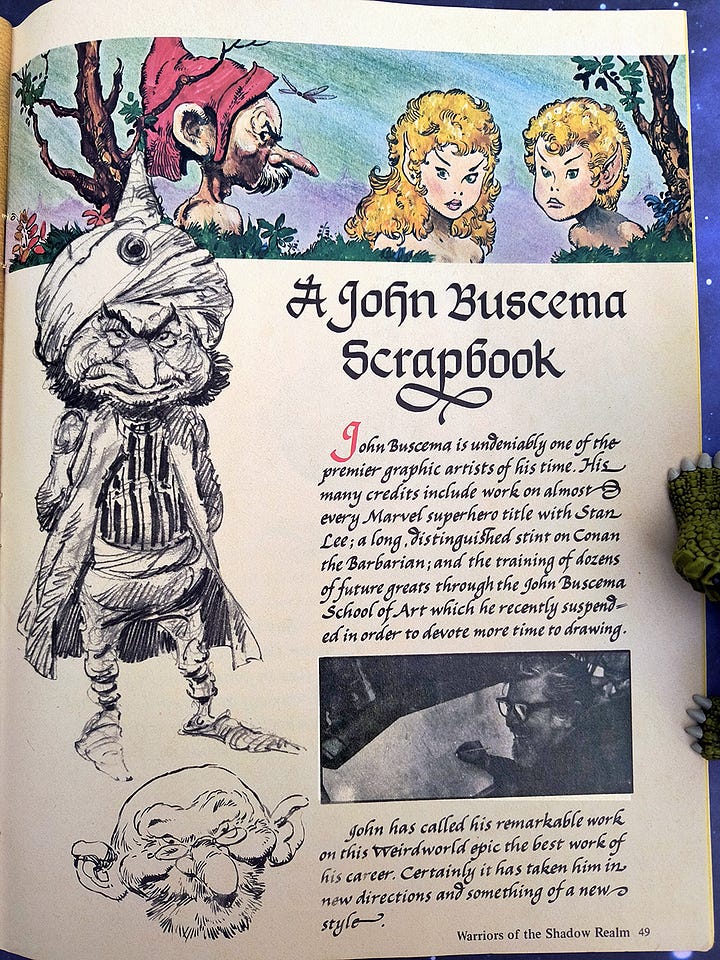 The pride they took exudes from every single word & dot of ink - I can't help but feel proud of them for what they created.
I hope my photos give a sense of how impressive this work is - the magical story unfolds through masterful compositions, vistas, perspectives, colors & shading. I also really appreciate all the extra little touches they included.
This was a fine quest. So glad you could join me in discovering more about Weirdworld and The Warriors of the Shadow Realm!
Interestingly, Doug Moench stated that even though there are distinctly Tolkien-esque parallels, he had never really even read The Lord of the Rings when he created this story!
Other News from The Realms
While perusing the shelves of World Market the other day, I discovered some fun fantasy-inspired libations and thought I'd share:

The new RuneScape RPG core book is available for pre-order, where you can bring iconic RuneScape and Old School RuneScape lore to life in a whole new way.




Don't forget to check out fantasy pen & ink artist, Luke Eidenschink's, collected fantasy drawings. He also has been listing several of his original drawings as add-ons to his campaign.




Bigthink put out a really interesting article - "Eucastrophe": Tolkien on the secret to a good fairy tale - which discusses J.R.R. Tolkien's view that the most important element of a fairytale is Hope & the reversal of misfortune in the story's ending.
Until next time, Fellow Adventurers, remember:

"Yesterday's weirdness is tomorrow's reason why." - Hunter S. Thompson, journalist
Thanks for reading Rediscovered Realms! Subscribe & Consider Pledging to receive amazing weekly posts and Keep the Adventure Going Strong!